The Gallery, assorted pictures for you to browse, is your stove here?
Best viewed with your browser text size set to medium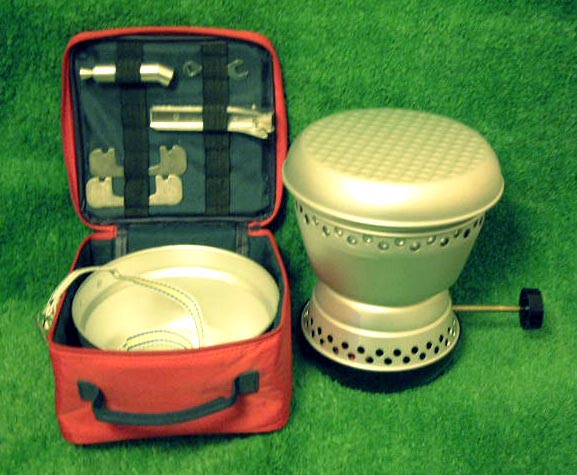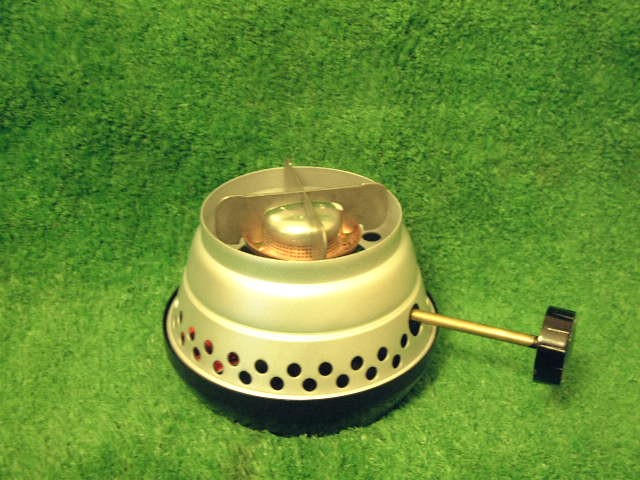 The Optimus #85 'Loke', a good idea on paper, but one which never really caught on! Build a kerosene/white gas stove with a nesting panset and windshield. But the steel tank and brass 'silent' burner put the stove in the heavyweight class at 1.4kg. This brand new stove in its padded case was found lying in an outdoor shop ten years after the stove was discontinued by Optimus...!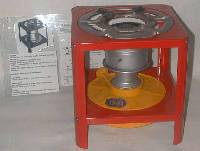 A stove to warm any 'Wickkie's' heart..! Standing 9" tall in its metal frame this Chalwyn 'Oma' wick stove from the early 1970's is in mint condition. Owned by Jan Hurst in England the original instructions have been photocopied and can be seen behind the stove.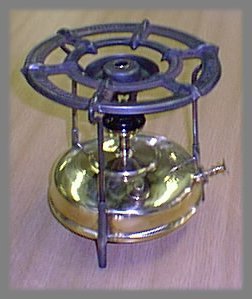 Very nice Primus Model 45, a collapsable 13/4 pint stove popular for Family or small group catering.
Note the outer burner cap is missing from the 'silent' burner, stoves are often found with one or both inner and outer caps missing.
Two views of a Tilley CS1 paraffin stove from the early 1950's.
The obvious use of 'Guardsman' Stormlantern components
makes for a heavy but powerful and durable stove.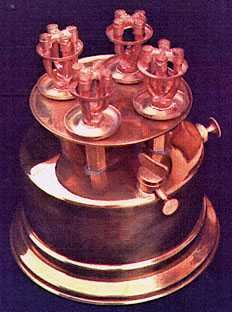 A four burner 'Rocket stove' used for group catering or instrument sterilisation by boiling in remote hospitals. The unit would stand under a metal tripod or brick structure with a grid over the top. For clarity this stove has had removed the four brass tubes which direct the flame straight up.
Over the years giant single burner and three burner models were produced. The Optimus 510 was last listed in the 1980's and some spares are still available.
Back to 'The Gallery' index page
Last update
17/05/17
Copyright © 1999 Base Camp. All rights reserved.